ais presentations
"Help! We're Surrounded! A Park Rapids Community AIS Event"
was held
March 20 from 7 - 8:30 PM
hosted by Riverside United Methodist Church, at 1005 Park Ave N, Park Rapids (Hwy 71 toward Itasca Park) Presentation can be accessed below:
Jeff Forester, from Minnesota Lakes & Rivers Advocates Click
Nicole Kovar, MN DNR Invasive Species Specialist on "New Challenges and Responses to AIS" Click (coming)
Bill DonCarlos, Hubbard County AIS Program Coordinator Click
Dan Kittilson, HC COLA Click
Video recordings and links to newspaper articles can be accessed here.
​
View presentation from 10/27/2017 COLA meeting on DNR efforts to combat infestation of Starry Stonewart in Big Turtle Lake. Click on file below.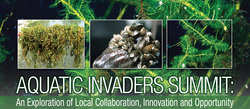 "
Aquatic Invaders Summit
: An Exploration of Collaboration, Innovation and Opportunity" Jan. 20-21, 2015 --
click here
for a link to the presentations
---